Genesis of The Wrong Funeral
Here's a funny thing.
In 2002 I wrote and directed a play called Calling the Tune - a bit of a weepy. It was a two-hander for women, set in France in 1980 but with flashbacks to the 1940s - in the Loire Valley in France. The action was brought to life by some fine performances from Elaine Freeborn and Angie Collins. I was quite pleased with the response to both the play and the excellent music composed and played by Daniel Moult, then organist at Coventry Cathedral.
Among the viewers one night was a party from the Belgrade Theatre at Coventry. They thought the play was unusual and the plot good enough to warrant pitching the play to some film companies.
I knew nothing about writing screenplays. Nothing. Not even how to lay it out on the page, let alone the format for writing scenes, or the traditional three act structure. But I pitched the idea to a number of UK based film companies. All of them turned me down - except one. Let's call the company Eyeline Films to save embarrassment.
Eyeline came back and said the idea sounded interesting - yes - work it up into a screenplay and whiz it through to us. So I sat down to transfer a very complicated plot in a coherent form, from a play to a format that I was completely unfamiliar with. I struggled. Eventually I submitted the screenplay to Eyeline along with a reply paid envelope and waited.
And waited.
I had almost forgotten about it when my reply-paid envelope re-appeared containing a weighty paper package. Ah, I thought, that will be a rejection then. Imagine my surprise then, when I opened the package to find a letter from Eyeline Films addressed not to me, but to Peter Fraser Dunlop in London - covering a script, saying "Here is the script. We want to assign Charles X as director, the budget is $8million - off you go."
I looked at the enclosed script. It was not my screenplay.
It was another comedy written by someone called Ben Sherman. It was about five men living on a houseboat, trying to save the marriage of one of them. It was terrific. One of the characters was called Roger. Strangely enough (I don't know if it's a function of the name), but Roger in the screenplay was a virtual carbon copy of me.
I could play that part, I thought.
If you were a struggling actor and playwright, what would you do in my situation ? I had a screenplay, potentially advance notice of casting and a part that could have been written for me.
Naturally I took a copy of the screenplay to use as a worked example of how to lay out a script on page, took a copy of my demo reel (VHS tape in those days), stuck a postit note on it, scribbled a recommendation "Good actor for the part of Roger" on it, placed the screenplay, covering letter and demo reel in a new envelope and posted it on to Peter Fraser Dunlop.
Then I got thinking; if Ben Sherman's script had been sent to me …… where had mine gone ?
That's how I came up with the idea of The Wrong Movie. It COULD happen, but would require very special circumstances. I fleshed out the idea into a synopsis and baulked at the cost.
The Wrong Funeral - literally
Then a friend told me about a mix up over two women in Leamington Spa who had the same name. They died about the same time and ended up in the same undertakers. One had specified cremation in her will and the other burial. There was a mix up and the wrong body was cremated. It would probably not have been discovered, were it not for the fact that the family of the other woman decided to have an open coffin ceremony.
This sparked some new ideas for me. This sort of thing is always going on. Remember the unfortunate African gent who turned up for a job interview at a TV company - and, unfortunately for him, had a similar name to the foreign minister of that country, who was due to turn up to be interviewed live on the news ? The Wrong Interview
One evening I started scribbling and, by the end of the evening had enough pages to do a read 'performance' to Nikki Adams and Sandy Holt, Arts Critic of the Stratford-upon-Avon Herald. It seemed to activate their titter glands, so I knew I was on to something - so I kept writing.
I had a lot of encouragement. A business colleague of mine kept prompting with remarks like "You know that story you told me about the American actor Ed Bishop gate crashing a UK arms fare with four other actors dressed as General Pinochet, Saddam Hussein, General Galtieri, Adolf Hitler and Ivan the Terrible? Why don't you put that in ?"
"Remember that story you heard from a Warwickshire policeman about a transvestite burglar ? Why don't you put that in ?"
I realised I had a store of true stories that were ripe for harvesting; like The Man Who Would be Lear - my dear late friend John Corvin, a retired RSC actor (and fine artist) who was desperate to play Lear before he died, but who succeeded only in playing him in a one-man show. His prolific white beard, which accompanied the part, earned him the offer of work from 'The Shakespearience', a company that specialised in performing extracts from Shakespeare plays for tourists - but only to play Father Christmas.
John always had a self-deprecating story to tell. Lovely man.
At the age of about 80, John was the only actor ever to anally heckle me on stage - two nights running in exactly the same place in The Winter's Tale. As I stood downstage right, threatening my daughter with an awful death, John worked his way upstage right to break wind surreptitiously, only for the sound to reverberate around the theatre. It seemed ironic that John should be so keen to hurl forth Lear's lines "Blow winds and crack your cheeks".
The devoted little band of followers who supported John on his three venue one-man Lear tour gave me further scope for comedy. "This is Ginger (not his real name)", said John, introducing me to the somewhat unkempt character who heaved John's set around venues, "He works at the Royal Shakespeare Company." Wow, I thought, John has done well to get this man signed up. "Oh," I asked him "What do you do there ?" expecting him to be involved in some high level marketing operation. "Maint nance (sic)" he replied. But his devotion to John was very touching.
Then there was the drunken priest at a wedding somewhere in Warwickshire. My choir was singing for the wedding and we had a very nice anthem to perform during the signing of the register. Alas, the priest was so well oiled that he had to have three stabs at the groom's name in quick succession "Do you Michael, IAN - no Brian, take this woman to be your lawful wedded wife ?". He also forgot to turn off his radio microphone during the signing of the register - so while we were singing the anthem, his voice was booming out from the next room "Sign here. No here, not there or you'll marry the wrong man".
I have stolen stories from real life; I have stolen characters from real life and woven them into a screenplay that, about 30 re-writes later, seems to be coherent - thanks to input from my editor Helen Brady, co-directors Colin Carberry and Nick Lancaster and multi-Emmy Award winning Joe Pavlo. (Stop Press - now an Oscar man ! Special effects on Jungle Book).
So what happened to my screenplay for Calling the Tune ? It never reappeared, but my demo reel made its way back from Peter Fraser Dunlop with an apologetic note saying the houseboat film was not now being produced. I found out why quite by accident.
I was beavering away on my computer one night, scribbling away as usual, when the phone rang. It was my American actor friend Ed Bishop. He was going to have to speak at the funeral of a friend and there were some French words he had to pronounce. Could I help him? I put him right on the pronunciation and then said "Just out of interest, whose funeral is it ?"
"Oh you won't have heard of him. He was a American actor living in this country called Ben Sherman".
In August 2013 Two Hats Films shot six days of footage, using an early draft of The Wrong Funeral, in South Warwickshire. In those six days we managed to shoot 30% of the film - rather more than we expected. The idea was to shoot enough footage to put together a pitching trailer to secure funds. That part of the plan worked. We have had a serious offer of finance from a private source and an expression of interest in matched funding. But all of this is contingent upon finding a 'Name' who could sell the film.
We have been in discussion with a distributor, who is keen to be involved. We have also taken advice from Debbie Isitt (Confetti, Nativity I, II and III), for which we are grateful.
Rog Harding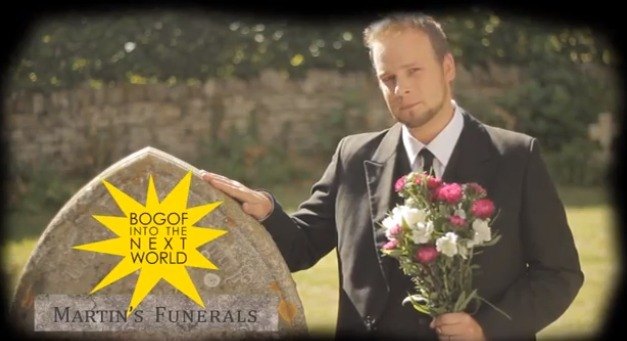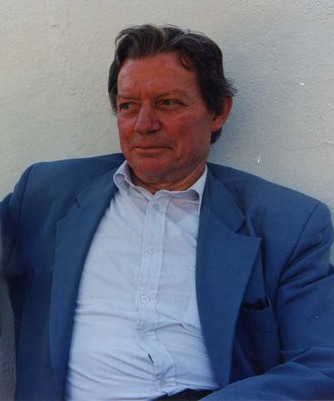 Ed Bishop, best known for his role as Straker in the Gerry Anderson sci-fi series UFO. Ed was a great story teller and a committed social campaigner, passionate against the arms trade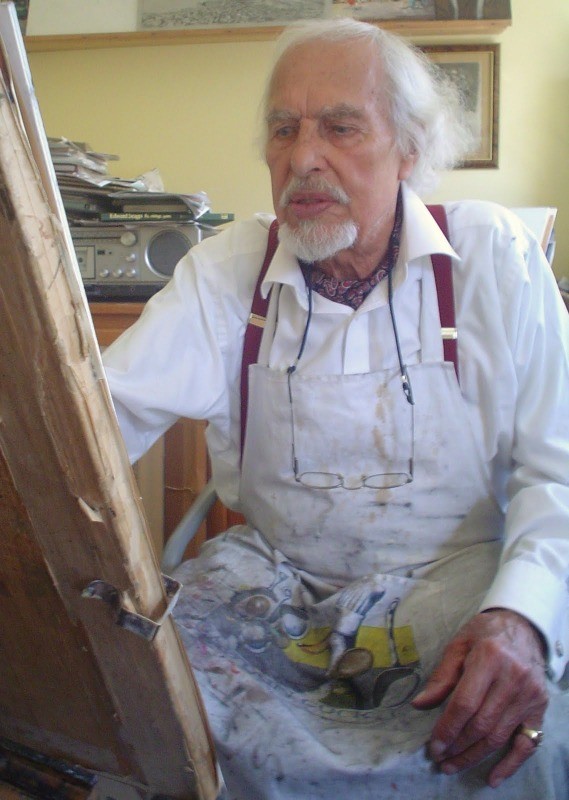 John Corvin. A talented artist and actor and master of self-deprecation